Champagne Louis Déhu
Welcome to our website !
We wish you a pleasant visit.
Grape harvest
Our grape harvest is done manually with a traditional team (very few producers maintain this tradition, most opting for jobbers and service providers).
Our pickers, who have been coming for decades for the most part, eat and sleep on the property for the duration of the grape harvest.
The grape harvest is the result of a year of work and it is a period which must reconcile rigor (especially in sorting the grapes) and conviviality.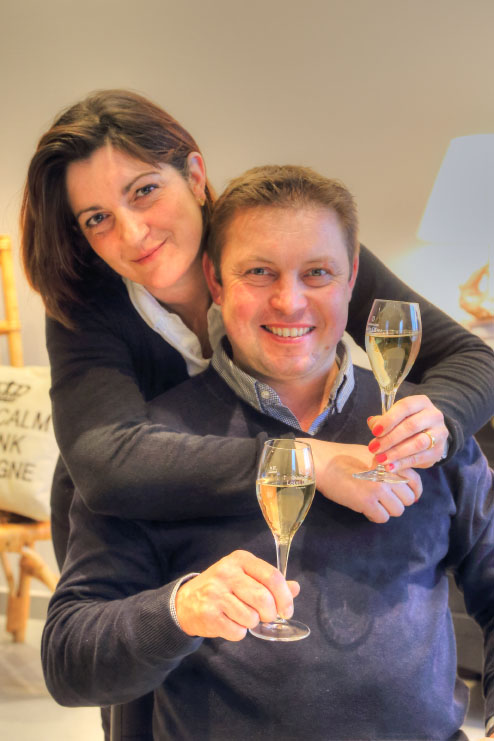 Introducing location
Family estate for generations, we are located in the Marne Valley, a few kilometers away from Epernay, in the charming village of Venteuil.
A hillside, ideally facing south, Venteuil is characterized by clay-limestone soil.
Although originally pinot meunier was the only grape planted and harvested, today the three Champagne grape varieties are represented there.
Our Maison cultivates 10 hectares spread over several towns in the Marne Valley.
Our area overlooks this beautiful valley and our location will make you discover beautiful landscapes whatever the season.
We believe that we must respect the earth and have been using sustainable winegrowing techniques for several years. It results in a non-systematic use of treatments: these are applied only when needed and depending on the weather.
For exemple, we do not use insecticides and miticides.
Our fertilizers are organic and can be used in organic farming.
We are grape harvesters, which means that we harvest and vinify the grapes from our vineyard.
Pressing
We are very careful with the quality of our juice pressing.
Each load of the press, the grapes are carefully examined to ensure the best juice.
Winemaking
We pay close attention to our winemaking method.
We do not practice malolactic fermentation to maintain a good balance of natural grape acids and a good aromatic expression.